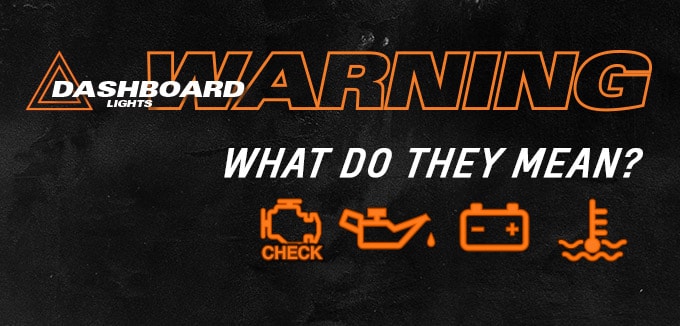 Dashboard Warning Lights
It can be alarming and frustrating when your dashboard warning lights go on. Unless you're a trained mechanic, you may have a few questions about what those weird symbols might mean. Although the individual symbols may vary from vehicle to vehicle, there are some general lights that are found on nearly every car. Always be sure to refer to your owner's manual if possible.
Engine Temperature Warning. This dash warning light looks kind of like a boat sitting on water. It actually represents a thermometer-which means your car is getting too hot. Possible causes could include a coolant leak, a bad water pump, bad thermostat or more. Pull over as soon as possible if you see this, as it can be very dangerous.
Check Engine. Resembling a small submarine, the check engine light is one of the most common warning lights to appear. It actually shows a crudely drawn engine block, and it's usually yellow. This can be nearly anything, though the most common problems include a bad O2 sensor, loose gas cap, faulty mass airflow sensor, a bad catalytic convertor, or bad spark plugs/wiring.
Oil Pressure. This oil-can icon (which resembles a genie's lamp) is telling you that your car is losing oil pressure. This is most likely due to a leak. You should stop the leak and fill up with oil as soon as possible.
Traction Control. This warning light is a car that's skidding. It turns on anytime your traction control system is activated. This is usually caused by a slippery surface like ice or loose gravel, so be sure to slow down if possible.
ABS. ABS stands for anti-lock braking system. If this light goes on, you should be extremely careful, as your brake system isn't working properly. Take your car to a certified mechanic immediately.
Battery Warning. Resembling a small red battery, this light lets you know that there is an issue with the electrical system. It could be anything from wiring to the alternator, but it is often a dead battery. It can also mean that the car's charging system is running on low power and that your vehicle is running largely on battery power.
These are just some of the many warning lights you might find. Have a dash light come on? Bring your vehicle to Ed Shults of Warren CDJR. Our certified and specially trained service technicians can get you back on the road in no time. 
Schedule Service
* Indicates a required field